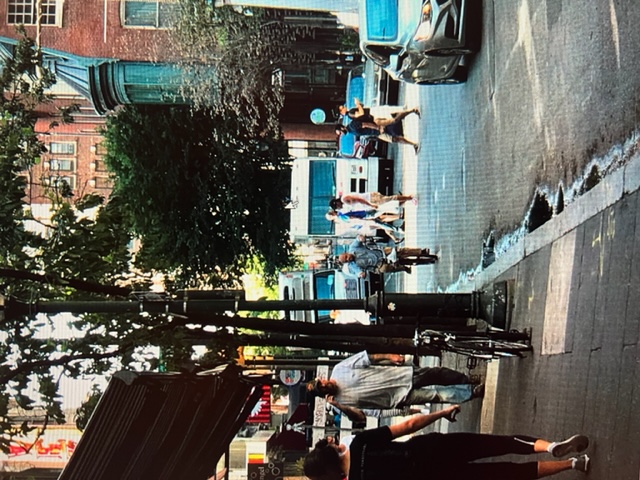 ---
---
STATE LAWS DO NOT PROTECT THE MENTALLY ILL OR SOCIETY (SEE BELOW).
ALSO, TOO OFTEN, GOVERNMENT AND NON-PROFITS DO NOT ENROLL THE MENTALLY ILL FOR SSD BENEFITS (SOCIAL SECURITY DISABILITY) AND OTHER BENEFITS WHEN THEY WOULD CLEARLY QUALIFY FOR THEM.
Many, if not most of those living on the street are mentally ill. And many of those working to solve this problem are well-intentioned. However, the problem is getting worse, not better, and there are very fundamental reasons why. Many of our 'mentally disabled' homeless population are refusing shelter and services, as well as not applying for Social Security Disability (SSD) and other benefits because it is a "voluntary process". To expect someone to make such a decision, who is not in complete possession of their mental faculties, is nonsensical. Worse yet, the governmental agencies and non-profits who are servicing this SSD-qualifiable population, and enabling them to stay on the streets, are costing taxpayers millions of dollars without getting this population the shelter and services that they qualify for. In addition, the legal bar that has been set to qualify for involuntary commitment is unreasonably high. As things stand currently, seriously mentally disabled people are living on the streets of Philadelphia, clearly unable to take care of themselves, refusing shelter and services, including SSD, while the city is paying millions to non-profits to enable them to live on the streets, creating a chronic health, safety, and sanitation crisis. State laws must be changed to get the mentally ill the care they need and deserve.
MORE ON CAUSES OF CURRENT CRISIS:
BRAIN DAMAGE FROM TOXIC EXPOSURES: A large part of mental illness has its roots in brain damage which can result in addictions and moderate to severe mental illness, including ADD/ADHD. Most people think of 'cancer' as the only result of exposure to toxins. However, toxins can also cause neurological damage to the brain. In the U.S., we are damaging our brains from chronic and acute toxic exposure from a wide range of sources, including: drugs, alcohol, cigarettes, caffeine, medicines (including vaccines), chemicals, heavy metals, radiation exposure, and industrial emissions. Many personal and household products, including children's toys and diapers, contain toxins. Those who have ADD/ADHD, may also suffer from a lack of impulse control, which can leave them much more vulnerable to addictions to drugs, alcohol, gambling, etc.. There is abundant evidence that connects toxic exposure to brain damage, yet governments, on the federal, state, and local level, have consistently shown more concerned for private profits than public health.


DE-INSTITUTIONALIZATION OF THE MENTALLY DISABLED: https://www.thebalance.com/deinstitutionalization-3306067 De-institutionalization of the mentally ill, started in the 1950's and rapidly escalated in the following decades.: "As a result, 2.2 million of the severely mentally ill do not receive any psychiatric treatment at all. About 200,000 of those who suffer from schizophrenia or bipolar disorder are homeless. That's one-third of the total homeless population. Ten percent are veterans who suffer from post-traumatic stress disorder or other war-related injuries. More than 300,000 are in jails and prisons. Sixteen percent of all inmates are severely mentally ill. There were about 100,000 psychiatric beds in both public and private hospitals. There are more than three times as many seriously mentally ill people in jails and prisons than in hospitals.

Pros: Deinstitutionalization successfully gave more rights to the mentally challenged. Many of those in mental hospitals lived in the backwater for decades. They received varying levels of care. It also changed the culture of treatment from "send them away" to integrate them into society where possible. It especially benefited those with Down's syndrome and other high-functioning mental disorders.

Cons: Many of those released from institutions were severely mentally ill. They were not good candidates for community centers due to the nature of their illnesses. Long-term, in-patient care provides better treatment for many with severe mental illnesses. There wasn't enough federal funding for the mental health centers. That meant there weren't enough centers to serve those with mental health needs. It also made it difficult to create any comprehensive programs. Mental health professionals underestimated how difficult it was to coordinate community resources scattered throughout a city for those with disorders. The courts made it almost impossible to commit anyone against their will. Thatís true regardless of whether it was for the personís own safety and welfare or for that of others."
Also read:
---
PENNSYLVANIA CODE, ß 5100.84. Persons who may be subject to involuntary emergency examination and treatment.
https://www.pacode.com/secure/data/055/chapter5100/s5100.84.html
(a) Persons 14 through 17 years of age may be subject to involuntary emergency examination and treatment only in an approved mental health facility capable of providing a treatment program appropriate to the person. Persons 5 through 13 years of age may be subject to involuntary emergency examination and treatment only in an approved mental health facility capable of providing a treatment program appropriate to the child. Persons from birth through 4 years of age may be subject to involuntary emergency examination and treatment only in a mental health facility capable of providing a treatment program appropriate to the child. Should no such facility exist within the county of residence, the nearest appropriate facility shall be designated by the county administrator. Longer term involuntary treatment for the age groups listed in this section, must be conducted by agencies with age appropriate programs which are approved by the Department and designated by the county administrator when public monies are utilized for treatment.
(b) Persons 18 years of age and older may be subject to involuntary emergency examination at an approved facility designated for such purpose by the administrator. Involuntary emergency treatment may be provided at the examining facility or any other designated and approved facility appropriate to the personís needs. Travel arrangements between the examining facility and the treating facility shall be arranged as needed as soon as possible to permit transportation appropriate to the personís needs.
(c) The determination of whether the standards of clear and present danger are met should always include a consideration of the personís probable behavior if adequate treatment is not provided on either an emergency or subsequent basis.
(d) The standards of clear and present danger may be met when a person has made a threat of harm to self or others; has made a threat to commit suicide; or has made a threat to commit an act of mutilation and has committed acts in furtherance of any such threats.
(e) Examining physicians should consider the probability that the person would be unable without care, supervision, and the continued assistance of others, to satisfy his need for nourishment, personal or medical care, shelter or self-protection, and safety in accordance with section 301(b)(2)(i) of the act (50 P. S. ß 7301(b)(2)(i)).
(f) When the petition for commitment filed under section 301(b)(2)(i) alleges that a person poses a clear and present danger to himself, clinical or other testimony may be considered which demonstrates that the personís judgment and insight is so severely impaired that he or she is engaging in uncontrollable behavior which is so grossly irrational or grossly inappropriate to the situation that such behavior prevents him from satisfying his need for reasonable nourishment, personal care, medical care, shelter or self-protection and safety, and that serious physical debilitation, serious bodily injury or death may occur within 30 days unless adequate treatment is provided on an involuntary basis.
(g) An attempt under sections 301(b)(2)(ii) and (iii) of the act (50 P. S. ß 7301(b)(2)(ii) and (iii)), occurs:
(1) When a person clearly articulates or demonstrates an intention to commit suicide or mutilate himself and has committed an overt action in furtherance of the intended action; or
(2) When the person has actually performed such acts.